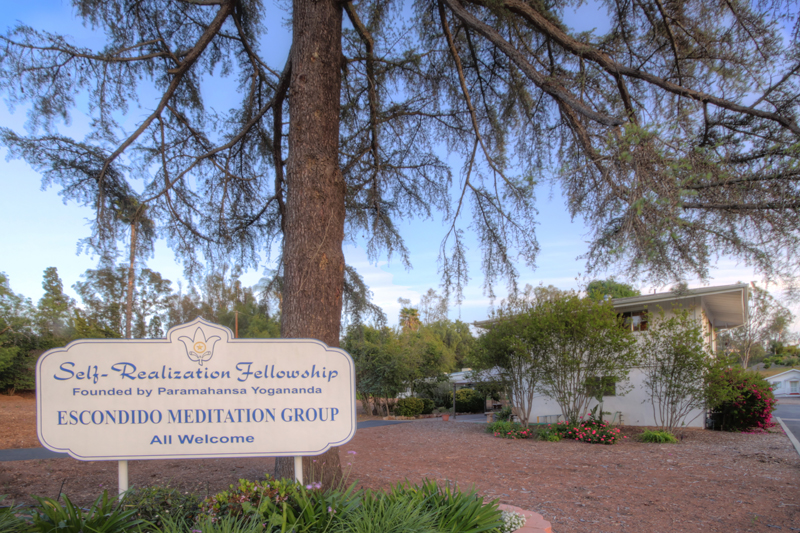 The Escondido Center of Self-Realization Fellowship hosts meditation services and other activities for members and friends of SRF. All are warmly invited to attend any of our services. Our Center is centrally located near Hwy 78 and I-15.
More
1299 Scenic Drive
Escondido CA 92029
(At Del Dios Road and Scenic Drive)
E-mail: info@escondidosrf.org
Phone: 760-480-1161
Lectures and services
For special events, please visit our Upcoming Events page.
Sunday

9 – 9:45 a.m.
Meditation
10 – 11 a.m.
Reading service; Sunday School (Sunday School / Teen Group registration form)


6 – 9 p.m.
Group Energization Exercises and meditation


4th Sunday
6 – 9 p.m.
Group Energization Exercises and meditation with kirtan



Monday

7 – 7:55 p.m.
Meditation
8 – 9 p.m.
Lessons Study class



Wednesday

7 – 9 p.m.
Group Energization Exercises and meditation



Thursday

8 a.m. - 2 p.m.
Group Energization Exercises and meditation


7 – 8 p.m.
Inspirational service
8 – 8:30 p.m.
Meditation



Friday

7 – 9 p.m.
Group Energization Exercises and meditation



Saturday

7 – 8 p.m.
Group Energization Exercises and inspirational service in Spanish
8 – 9 p.m.
Meditation


2nd Saturday
9-10:30 a.m.
Satsanga and guided meditation
3rd Saturday
9:30 a.m.-2 p.m.
Service Day
4th Saturday
8 a.m.-2 p.m.
Group Energization Exercises and meditation